seminars
Pro DEVELOPMENT

for creatives

by Artist R.L. Gibson
__________________________
As a working artist, R.L. Gibson (Rachel) also offers two decades of experience as a juror, gallerist & arts administrator in addition to her current position as the Editor of Art&ArtDeadlines.com, a quirky, food-themed art site offering FREE resources to artists.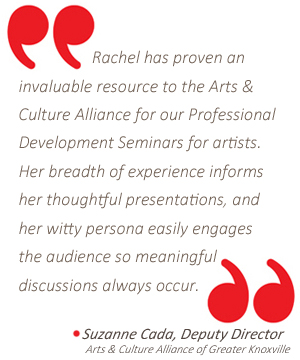 She has developed the curriculum for dozens of professional development seminars for visual artists and other creatives based on experience as both an artist as well as a juror and gallerist. Here are 10 most popular seminars:
How to Price Your Art: Learn how beginning artists can learn to price their work competitively while helping more experienced artists avoid the most common mistakes of emotional pricing. Having a hard time pricing your work? Let's figure out why—together. 1 hour program.
Funding Your Art: Alternate means of funding creative art projects. Unless artists exclusively produce found-object or recycled art, art supplies are expensive. Entry fees for juried shows and the marketing required to land a solo show can break the bank. Join Gibson to explore funding options from crowd-sourcing to fantastic grant opportunities. 1 hour program.
Getting a Show: Avoiding the Pitfalls & Pratfalls. Learn the secrets to increasing one's chance of success getting into group & solo shows. As a former gallery director, arts administrator & recipient of more rejection letters than she'd like, Gibson will guide participants through a fun, food-themed presentation followed by Q& A. 1 hour program.
Building your Creative Resume: Is your creative resume getting you where you want to go? How do you choose which shows to pursue? Are online galleries worth your time? Join R.L. Gibson to learn how to choose a strategy & build the resume you need to get where you want to go. This 45 minute seminar will be followed by a Q&A session. 1 hour program.
Gallery Representation: Your Art DOESN'T Sell Itself. Are you certain you are ready to pursue gallery representation? Learn how to take progressive steps in preparation to seek successful gallery representations. What to do–and NOT DO. 1 hour program.
Branding yourself as an Artist (PART 1): Don't I know you? Learn how to create a strategy to more effectively present yourself and your work by discovering what you project and how others perceive you. You ARE your brand, and you have to be prepared to represent your brand every time you step out the door. 1 hour program.L. Gibson" width="300″ height="360″>
Branding yourself as an Artist (PART 2): Planning your Next Show. Do you wonder why some people easily get solo shows, and you can't ever get out of the juried pool? Creativity isn't all rainbows and unicorns. Planning and strategy are key. e. Your 6ft tall portrait series isn't going anywhere outside of your town if you can't afford to crate and ship it. Find your niche, and don't waiver from your brand. 1 hour program.
Stepping off the Edge: How to Transition to Full Time Artist. Moving from an amateur/hobbyist to a full-time/professional artist (not applicable to photography) seems impossible when you are not selling work in juried art shows. But, there is a way –including part-time, free-lance art jobs that you never considered. 1 hour program.
Artist Building, not Blocked: How to Break out of your Creative Rut – 10 tips and techniques for clearing the fog and finding focus with projects that inspire without pressure. 1 hour program.
ArtWeb Consultation: How are you doing? (Individual Consults) Consider this the artist's version of a parent/teacher conference. Consists of a full day of 15 to 30 minute sessions of analyzing websites for artists (written reports compiled in advance).

Minimum of 4 hours.

What Do You have to say for Yourself: The art of Bio, Statement & Resume writing (1 hour program or Individual Consultations). Every gallery director, juror & fan wants to know what you were thinking when you created a piece of artwork. But how do you get it out of your head and in written form. Social media & websites have made the personal bio & necessity. How do you make your bio FEEL personal, without being TOO personal?

Minimum of 4 hours.
In each of these workshops, the arts organization would be expected provide an appropriate space & equipment (chairs & a projector). There IS profit built into the seminar fees for the host art organization. In addition, Gibson will to provide all the digital design to promote these workshops/seminar –i.e. print ready digital files for a poster, FB event header & digital flyers for use on social media.
Don't see the seminar you need? Gibson can tailor a workshop just for you.
Contact

artist R.L. Gibson

for pricing
on professional development seminars
for artists & creatives!
Save
Save