Bringing Art to the Cloud: Collectrium
Bringing Art to the Cloud:
Collectrium
A few months back, we had a conversation about inventory tracking from the artist's perspective.  Here's a little conversation about Collectrium–tracking from the collector's experience…
Some people collect art as a way to showcase their social and financial dominance — to show that they have enough resources to buy items that they didn't really need to be able to survive.  This is what Sir Mark Jones FSA, former director of the Victoria and Albert Museum in London, says, when asked the quintessential question: "Why do we collect art?" Dr. Ian Wardropper, director of the Frick Collection, however, says that he began collecting items without even realizing it. "I was just buying what I could afford to," he says.  So when does something become a collection? In the end it, when you start calling yourself a collector.
Whatever their reasons for collecting art, it's becoming increasingly apparent that curators need to find better ways to keep track of their collections. For some, mobile has presented the answer. Gaming Realms, owners and operators of Pocket Fruity, have noted that "The market for virtual goods was worth US$7.3bn in 2010 and is expected to double by 2014" and more people are consuming products via the mobile sphere.  This has led to the creation of many inventory-tracking apps, but none of them come close to the features provided by Collectrium.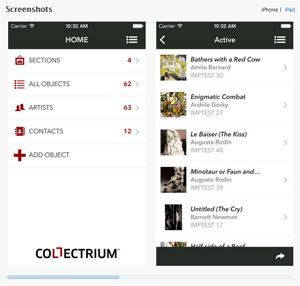 Collectrium gives collectors the unique ability to keep track of their inventory with complete details, uploading everything to the Cloud for easy access between devices. Installing the software on your computer, you can begin tracking your new acquisitions, including adding unlimited high-resolution photos, details of how you acquired the item, and where it is being kept, among other important details. You can then access all of this information straight from your mobile phone, so when you go to meet buyers and fellow collectors, giving them access to your gallery is easy. With everything stored on the Cloud, your inventory doesn't take up any space on your mobile–it's all in the Cloud, ready to be downloaded.
The software itself costs $39 per month, but it's a bargain for those serious about running their collections, or looking to transition into a full-blown gallery in the future.  The companion app for the iPhone is completely free, meaning you can download it on your phone, iPad, or what-have-you, and simply log in with your Collectrium account for easy access anytime, anywhere.
————————————————–