PRESS RELEASE: Arts & Culture Alliance Presents "Do I Know You?" by R.L. Gibson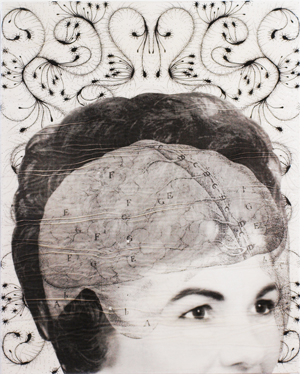 (06/18/2014-Knoxville) – The Arts & Culture Alliance is pleased to present "Do I Know You?", a new series of Xerography on canvas with hand-drawn patterns by local artist R.L. Gibson. "Do I Know You?" uses the body as the ultimate betrayer by appropriating historical, formal portraiture of children and adults in the prime of their lives and juxtaposing those images with a forced consciousness of life-altering and/or terminal illness via layering of historical anatomical drawings. "In the span of one year, my father died in a tragic car accident due to a complication from diabetes, I had a surgery often reserved for women 20 years my senior, and I became the guardian for my 91 year-old grandmother in the end stages of dementia," says Gibson. "My grandmother always asks, 'Do I know you?', and I began to realize this is what we all ask of ourselves throughout life and of our bodies when they inevitably fail us." Gibson's retro-influenced works with a tinge of humor will be displayed in the Balcony at the Emporium Center in downtown Knoxville from July 4-26, 2014, and an opening reception will take place as part of First Friday activities on July 4 from 5:00-9:00 PM.

R.L. Gibson is a nationally-shown artist, juror and editor that calls Gatlinburg, TN home along with her husband, photographer Jon Ives, and son Oscar.  Gibson works almost exclusively as a Xerographist, producing complicated layered compositions and then hand-transferring these images to a variety of substrates resulting in a unique monotype.  Xerography, as a medium, has neither a standard place in institutional art instruction nor a documented history. Gibson has spent years refining her hand-palated technique. The "skips" are not flaws but the unique result of the process.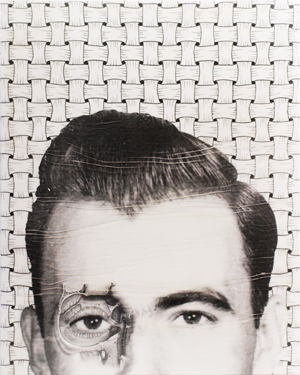 In addition to producing her own work and work in collaboration with other artists, Gibson and her husband also perform as the Appalachian singing duo the Pea Pickin' Hearts. Gibson also serves as the Editor for ArtAndArtDeadlines.com, a fun and quirky, food-themed art blog that offers reviews of emerging artists, shows from great galleries, and FREE Art Deadlines and Calls for Entry as an artist's resource. 
 The Emporium is free and open to the public. The exhibition hours for "Do I Know You?" are: Monday-Friday, 9:00 AM – 5:00 PM; Saturday, 11:00 AM – 3:00 PM; and (NEW!) Sundays, July 6 and July 20, 3:30-6:30 PM. Please note, the Emporium will be closed on Saturday, July 5.For more information, please contact the Arts & Culture Alliance at (865) 523-7543, or visit the Web site at www.knoxalliance.com.
Also on display in the Emporium during the same time frame:
Then & Now – A celebration of the ten-year anniversary of the Emporium Center's reopening
Works by Jim Parris & Gwendolyn Kerney
Knox Heritage – 2014 Art & Architecture Tour Photographs
About the Arts & Culture Alliance
The Arts & Culture Alliance serves and supports a diverse community of artists, arts organizations, and cultural institutions. The Alliance receives financial support from the Tennessee Arts Commission (www.tn.gov/arts), the City of Knoxville (www.cityofknoxville.org), and First Tennessee Foundation (www.firsttennesseefoundation.com).
Contact: Suzanne Cada
PO Box 2506
Knoxville, TN 37901
(865) 523-7543
sc@knoxalliance.com