HELMET HEAD: Darth Vader Art Contest
LUKE,


I mean,

OSCAR,


Where is your Father?
So, I have a 12 year old that loves Star Wars.  Not shocking, eh?  A lot of 12 year olds love Star Wars.  Recently my son has started hiding his love for the franchise because it has apparently become less cool at school to admit it.  Nonetheless, when I tripped across the Darth Vader Helmet Art Contest, I thought, "Hmm, I'll post it on ArtAndArtDeadlines.com, and maybe I'll enter if I get the time."  Famous last words.
Well, once I told my son
about the contest,
I was forced to FIND
the time.
I entered and forgot about it.  They asked for a link to your portfolio on the entry form, and seeing that my artwork couldn't be any farther from sci-fi than it is, I just assumed that I made brownie points with my kid for ENTERING…and THAT would be THAT.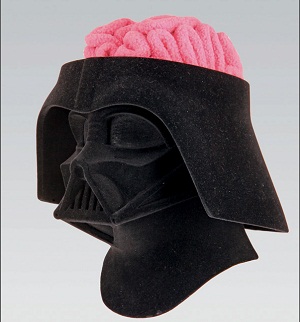 Not quite.  I found out today that I, R.L. Gibson (the Xerographist), was selected as one of 25 artists to create an original piece of art out of or incorporating the Darth Vader Helmet–an authentic reproduction, mind you.  Careful what you wish for folks.  It was like a ticker-tape parade when I told my son Oscar, but NOW I have to actually create something that fits both the philosophy and aesthetic of my work with a Star Wars helmet.  Methinks it will be a challenge.  Being challenged was not really in the game plan, but I'm actually looking forward to it–don't tell my cool friends, though.
My child is counting on

my WINNING.

Uh oh.
The great news is that all 25 of the helmets will be auctioned of to benefit the Midwest Art Catalyst, a non-profit organization created to support the Mankato area artistic and musical communities, and The Miracle League's Fallenstein Field, which is the only barrier-free handicapped and wheelchair accessible softball/baseball field in Minnesota built for children and adults with all types of disabilities.
Cool.  Did I mention I get a $150 HalloweenCostumes.com gift certificate even if I don't win?  That means 1) My kid gets to brag that his mom is making Star Wars art, 2) My kid gets to try on the helmet when it arrives, and 3) Even if I don't win, my kid gets a great Halloween costume next year.  Very cool.
Stay tuned for pictures of the helmet as it develops!