BUSY MONTH for Artist R.L. Gibson!
TRUCKIN'
MY ARTWORK
into the Fall!
Okay, I admit it.  I've fallen down on the blogging job again… It has been over a month since I posted an update to this blog.  But, my excuse this month is the best one that I've ever had…
Artwork is flying
(well, truckin' actually)
out the door!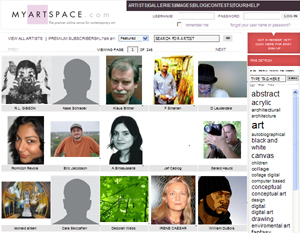 September was a crazy month for Artist R.L. Gibson, and October is shaping up to be a whirlwind as well.  It started with acceptance into the Persona show at the Darkroom Gallery in Vermont, continued with acceptance into the Edges & Curves show in L.A.  The Edges & Curves show led to an offer of a solo show at RicRoks Tattoos in L.A. this December, and the month was topped off by being chosen as a Featured Artist on MyArtSpace.com! (That's me top left in the screen shot to the right!)
For the first time in my artistic career, I have more show opportunities than available work to show.  How crazy is that?  I couldn't ask for better motivation to create new work.  Wooohooo!
Thanks for all the love and support,
and stay tuned
for show details!