R.L. GIBSON: Art for Charity
ART FOR CHARITY RAISES MONEY FOR LOCAL NON-PROFITS
Michael Mitchell Interiors hosts Art For Charity, May 19 to June 13, at 438 King Street, Charleston. The gallery will be open daily 10 a.m. to 6 p.m.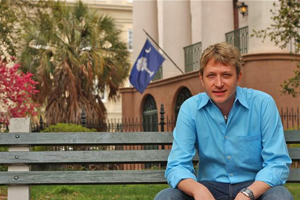 "I saw a way I could use my contacts and talents to help the community," Michael Mitchell (pictured right), owner of Michael Mitchell Interiors, said.
"I look forward to working with each of the non-profit groups to raise money for their very special causes this year and in future years."
Through regular gallery hours and special invitation-only receptions, artwork sold from local and national artists raises money for local non-profit organizations including:
Medical University of South Carolina (MUSC) Hollings Cancer Center
Charleston Breast Center
MUSC Children's Hospital
Five local Habitat for Humanity affiliates
Ronald McDonald House
American Red Cross
South Carolina Aquarium
Roper Saint Francis Ryan White Program. 

Art For Charity features a wide variety of artwork from local and national artists. Artists include:
Carol Kamm
Marty Biernbaum
Deanna Bowdish
Terry Brennan
Joe Byrne
John Crum
Heidi Darr-Hope
Toni Elkins
Rex Hunter
Kim Keats
Karen Keen-Day
Stephen Kishel
Alicia Leeke
Elena Madden
Debbie Martin
Betsy McDonald
Easter Melton
Bruce Nellsmith
Betsey Stevenson
Darlett Stone
Carl Turner
Marlies Williams 
The style of the work ranges from traditional to modern, is both two and three dimensional and encompasses a variety of media.
Ashley Wieters Redmond, Director of the Ryan White Program, said, "The Roper Saint Francis Ryan White Program looks forward to their new partnership with Michael Mitchell and his Art for Charity event this year."
"I believe the event will help bring awareness to the community on HIV/AIDS and services the Ryan White program offers while supporting Lowcountry artists. It's all for a good cause."